dnota, a leader in hybrid air quality networks, has announced the expansion of its distribution network with two new partners in Greece and Turkey;
The company has signed an agreement with Purcon LTD, in Greece, and Tetra A.Ş., in Turkey. These new partners, with a long history of installing reference equipment, will be responsible for marketing Bettair, developed by the Spanish company of the same name.
La tecnología Bettair permite mapear la contaminación del aire urbano con gran precisión a una escala antes inimaginable. A network of static nodes is easily installed on lampposts (or other street furniture), forming a dense array that allows high spatial and temporal resolution to be achieved.
Bettair nodes can measure up to 6 pollutants in one device: NO2, NO, CO, O3, SO2, H2S or NH3; They also have a particulate meter (µg/m3) for: PM1, PM2.5 and PM10. They also measure noise pollution and other environmental parameters;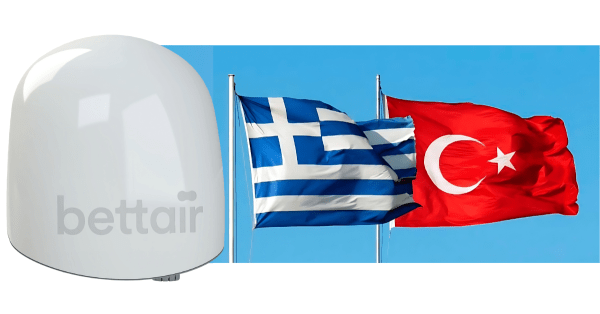 Optimizing Global Air Quality: Innovative Projects and Advanced Technology with Bettair
Pollution data is processed through a unique post-processing algorithm, providing accurate air quality measurements with accuracy comparable to conventional devices, but at a fraction of the cost;
In Greece, innovative projects are being implemented in collaboration with several customers, including the University of Crete, which has already adopted Bettair devices;
During the Smart City Expo World Congress in Barcelona, held from November 7 to 9, the company held strategic meetings, such as the one with the Istanbul Metropolitan Municipality; At this meeting, the multiple advantages of Bettair technology were highlighted;
It is crucial to note that Tetra A.Ş., the entity in charge of Bettair's distribution, not only covers Greece, but also deploys its presence in Kazakhstan, Azarbaijan, Uzbekistan, Turkmenistan and Iraq. In these countries, Tetra A.Ş. not only acts as a Bettair distributor, but also serves as a reference instrument supplier for both public and private customers;
This strategic expansion of the distribution network consolidates dnota's position as the undisputed leader in the air quality market; The company not only stands out for its innovative approach, but offers a comprehensive solution that fuses the expertise of traditional air quality devices with the cutting edge of IoT technology. This holistic approach reflects dnota's commitment to providing advanced and affordable solutions for monitoring and improving air quality;