Compact wireless air quality stations with real-time web-based visualization platform
This new technology for Smart Cities provides a highly efficient and large-scale mapping tool for
highly efficient and large-scale mapping of pollution in cities or industrial environments.
It provides knowledge and information that cities need to better understand and mitigate air and noise pollution. The "plug & play" gas sensor cartridge design allows easy replacement of all sensors when required. At the end of its useful life, it can be replaced by a new cartridge, thus renewing all of them in a single action.
bettair® Node
bettair® static nodes are multi-sensor devices that operate autonomously. They require external power, either from regular grid or from a solar panel. Each sensor transmits its data directly to a server for processing in the cloud.
The lifetime of the sensors (electrochemical cells and particles) inside the nodes is two years.
Within this period, data quality is guaranteed. After the two-year period, the sensors must be replaced. This operation is easily done by replacing the bettair® sensor cartridge shown in the picture.
bettair® static nodes can measure various air pollutants, as well as ambient noise level and other environmental parameters.
Measures
Static nodes are composed of electrochemical elegible gas sensors to measure (ppb or µg/m3):
Particulate Matter Meter (µg/m3) for:
Measurement of greenhouse gases:
Other environmental parameters:
VOCs
Noise
Temperature
Humidity
Pressure
Connectivity
3G/4G
LoRaWAN
Narrowband-IoT
Ethernet
Advanced post-processing
One of the keys to the reliability and zero maintenance cost of bettair® nodes is centralized processing. Contamination data are treated through a unique post-processing algorithm. This algorithm provides accurate measurements of several air quality indicators with accuracy similar to that of traditional equipment, but at a fraction of the price. Impressive Pearson correlation (R2> 0.9) when compared to traditional air quality monitoring equipment.
Connectivity, autonomy and integration
There are different ways to connect a node. Although connection via network cable is available, the most common way is via 3G/4G mobile connectivity (integrated as standard). It requires only a data SIM card, which is housed in the node itself. Optionally, it is possible to connect the nodes to a LoRaWAN network.

Its average power consumption is minimal (2 W), and it can be powered by a cable connection to the mains, or by a small solar panel specially designed for it. In addition, the node contains an internal battery that allows it to continue operating normally for 4-5 days in the event of a power failure.
Data obtained from a network of bettair® nodes can be integrated into the client's web or other system. For this purpose, an API is available for the user to integrate the final data obtained after data processing into the user's own system of choice.
The service of integrating the data into the user's tools is also available upon request, if the user does not have the means to do so.
In this section you can find technical documentation for bettair® nodes.
For any specific questions about the characteristics of this equipment, please contact: equiposysistemas@dnota.com
Downloads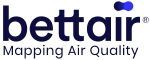 www.linkedin.com
bettair® Cities | 607 followers on LinkedIn. Mapping Air Quality | Bettair is a Platform as a Service (PaaS) that permits, for the first time, to really map air pollution in cities on a previously …

Height:
Ancho:
176 mm (6.92 in.)
Depth:
114 mm (4.48 in.)

Geolocated Visualization
The data visualization is geolocated and allows, by means of user and password, to see in real time the information of all its nodes: on a map, customizable graphs by parameters, automatic generation of reports, downloading of historical data, etc.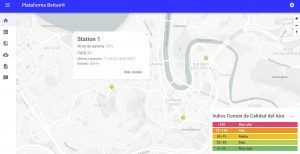 No maintenance costs
Before delivery to the customer, a calibration process of the sensors is performed at the factory. This calibration, together with the unique data processing software developed by bettair®, allows maximum and stable correlation of the final data to be maintained throughout the life of the sensors.
This same factory calibration process is performed on each cartridge supplied. Thus, a node in which a new cartridge is installed has the same reliability of contaminant data as a new node.
This eliminates the need for costly calibration work. Factory calibration is included in the purchase price of the nodes and cartridges and, due to the design of the specific data processing based on machine-learning technology, no further action is required.
There is also no additional cost for access to the node management platform.