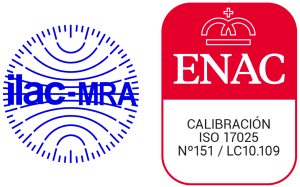 Calibration laboratory accredited by ENAC
With the number 151/LC10.109, according to UNE- EN ISO/IEC 17025, to act as a calibration laboratory.
calibration laboratory
both permanent and "in situ", in the area of Chemistry – Gas Concentration.
A permanent calibration laboratory is one that is designed and equipped to perform calibrations in a systematic way and in a controlled environment. This type of laboratory is mainly used for the calibration of measuring instruments and equipment. In the case of gas concentration, reference gases are used to calibrate the sensors of the gas detectors, providing greater accuracy and reliability in the results. In the case of flow measurement, calibrated reference equipment is used to determine the precision and accuracy of flow meters used in the industry.
On the other hand, "in situ" calibration refers to calibration performed at the place where the equipment is used. This type of calibration is especially useful for portable equipment used in fields and applications where it is not possible to perform calibration in a permanent laboratory. Calibration technicians travel to the site where the equipment is located and perform the calibration "in situ", verifying the results obtained by the equipment and ensuring its correct operation.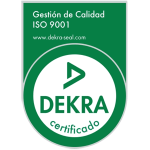 certified in accordance with the UNE-EN ISO 9001:2015 standard.
dnota medioambiente s.l. has a Quality Management System certified in accordance with the UNE-EN ISO 9001:2015 standard.
ISO 9001 is an international standard for quality management systems (QMS). This standard defines the requirements for the establishment, implementation, maintenance and continual improvement of a QMS.
The main objective of a QMS based on ISO 9001 is to ensure that an organization is able to consistently provide products or services that meet the needs and expectations of its customers and other interested parties.
In addition, an ISO 9001 QMS helps organizations improve efficiency, reduce costs, increase customer satisfaction and maintain a culture of continuous improvement.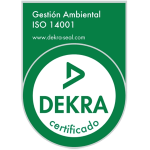 Environmental Management System certified in accordance with the UNE-EN ISO 14001:2015 standard.
dnota medio ambiente s.l. has an Environmental Management System certified according to the UNE-EN ISO 14001:2015 standard.
UNE-EN ISO 14001:2015 is an international standard that establishes the requirements for an effective and efficient environmental management system. This standard focuses on helping organizations to identify and control their environmental impact, while continuously improving their environmental performance.
The objective of implementing an Environmental Management System certified according to this standard is:
Reduce the environmental impact of the organization's activities.
Improve compliance with applicable environmental laws and regulations.
Ensure prudent use of natural resources and reduce associated operating costs.
Improve the organization's image and reputation, and increase stakeholder satisfaction.
This environmental management system establishes a framework for integrating the management of environmental aspects into the daily operations of the organization, through an approach based on continuous improvement, pollution prevention and compliance with environmental legislation.
The certification of an Environmental Management System in accordance with the UNE-EN ISO 14001:2015 standard is proof that the organization is seriously concerned about its environmental impact and is committed to protecting the environment in a continuous and sustainable manner.