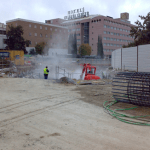 The activity associated with civil works construction projects represents an important source of vibrations due to the different machinery involved in the work execution tasks.
The level of vibration immission in living spaces near areas under construction for road, rail or port infrastructures in which such machinery operates can alter the state of comfort and, in certain cases, be detrimental to the health of the inhabitants of these spaces.
These vibrations can become equally representative during the operation of the exposed infrastructures. Therefore, it is advisable or even mandatory to monitor all vibrations that can be reached in sensitive areas associated with an activity, both in the execution and operation phase.
A correct vibration monitoring provides continuous information on the level of exposure of an individual to vibrations that can be reached in a house according to the activity generated by any infrastructure, which, due to its location or level of activity, requires its evaluation.
dnota medio ambiente, S.L. has the technical and human resources for the vibration monitoring of any type of activity in real time. For this purpose, we use a remote communication tool that allows connection via RS232, USB, GPRS modem, Internet, LAN and WLAN of the vibration monitoring equipment with the system manager. The user or system manager can access directly or programmed to the information recorded by the vibration analyzer installed in the monitoring equipment, remotely configure its operation, set vibration immission limits as alarms for level exceedance, record all events continuously with unlimited storage capacity, high efficiency in the post-processing of the information recorded continuously, as well as the sending of messages via sms, e-mail to the end user with the vibration data through the configuration of alerts for exceeding the level of immission after comparison with those tolerable values as established in this regard by the applicable reference standards.
Therefore, among the fundamental virtues of the vibration monitoring system we highlight:
Remote communication using 3G, GPRS, LAN, WLAN, simultaneous data acquisition from several stations or instruments, several types of communication modes: sessions – data saved only on remote computer, AFD – automatic periodic or manual file download, each instrument or monitoring station can be individually configured and controlled, preview of measurement results in linear or logarithmic displacement, velocity and acceleration in real time, automatically generated HTML code for data publishing, integrated ftp client for data transfer and a sophisticated mechanism to optimize GPRS transmission especially in cases of connection drop.
[tabs type="horizontal"]
[/tabs]Representative image of the monitoring and evaluation equipment:
[tab title="Insert Tab Title Here"][/tab]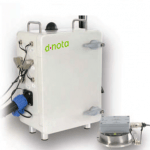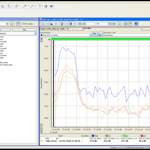 The extensive experience in the execution of vibration studies in pre-operational, operational and post-operational phase for road, railway and port infrastructure projects and the numerous works related to the vibration field developed both at national and international level, highlighting the projects carried out in Nice (France), Belgium and Bogota (Colombia); all associated with infrastructures, endorse dnota as a company capable of guaranteeing our customers a service of the highest quality and precision in accordance with current legislation.